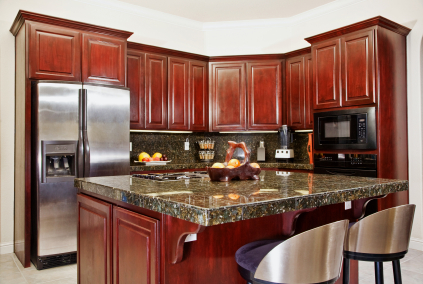 NYC Kitchen Remodeling

Custom Kitchen Remodeling

Remodeling your kitchen or bathroom involves more details and planning than any other room of your home. Lawalth planning and design work is precise, with exact wall and cabinetry measurements, and esthetically perfected in any style that you like.

In New York City smaller or unusually-shaped kitchens may require customizations to make the best use of your available space. A thorough knowledge of materials and their applications, coupled with skilled installation techniques, is essential to carry out a fine design and assure the durability that you deserve in your renovation.

It is our policy to provide every client with extensive guidance and design services. We prefer to spend as much time up front as needed to assure you the highest level results.

Here are some of the steps we perform:

Renovation Planning and Preparation

Plan and design the entire renovation with client

Determine a schedule for starting and completion, allowing sufficient time for delivery of custom products

Develop or obtain specifications for all significant installation items

Obtain the building's Alteration Agreement to review and comply with rules

Provide insurances, licenses, plans, specifications, and other documentation as may be required by the co-op or condo building's management

Verify that all items for installation have been ordered or are scheduled

Starting Work

Install dust barriers to protect furniture and other rooms; use Masonite for floor protection, and seal off the work areas with plastic partitions

Perform all demolition, including cutting though existing walls for layout changes

Remove debris and dispose off-premises

Inspect for any leaks or damage behind walls, tiled areas, floors, etc.

Perform plumbing rough-in work.

Perform electrical rough-in work.

Complete building walls; tape seams and plaster to make joints seamless

Re-level floors, walls, and ceilings for cabinetry, vanities, tiling, wood floor installation etc.

Skim-coat walls and ceiling as needed, sand surfaces to a smooth finish

Prime walls and ceiling using oil-based or acrylic-based primer

Install new flooring

Install new baseboard moldings

Complete tiling

Complete doorway framing and interior window frames

Install new doors, door moldings and hardware

Install crown-molding, millwork, trim work

Install cabinetry and millwork per plan including paneling, kitchen cabinets and vanities, entertainment centers, work stations, built-ins in other rooms, and other furniture

Install appliances

Make templates for fabrication of counter and vanity tops with matching backsplashes

Install sinks, faucets, dishwasher, and ice-maker

Install all light fixtures

Complete all water, gas, and electric connections including outlets, TV, computer, and other

Floor protection and complete painting

Apply faux finish, wallpaper, or other special finishes

Walk-though with client for final inspection; create a punch-list of touch-up details

Kitchen Remodeling and any other home improvement projects in New York City require lots of planning and preparation, even before the work begins. At Lawalt Home Improvement we will take you from concept to creation!